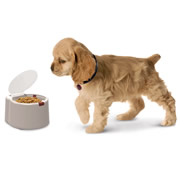 Like so many of our readers, the Mable's Crew does a bit of traveling for both pleasure and business. Even when we're at home we tend to take frequent trips that can last most of the day. Before discovering automatic pet feeders and pet drinking fountains, this always caused a problem for our cats, who insist on timely meals! We'd come home and have 3 antsy cats circling our feet, meowing continuously until we refilled their food and water dishes. Thank goodness for automatic pet feeders, amirite?
Convenience is definitely a key selling point for these pet products, but better pet health and longevity are also very important to note. As is common with male cats, our 2 boys (Mable, our namesake, and mc chris) were having urinary tract problems, and after purchasing a pet drinking fountain they began drinking TONS more water and their health problems have since disappeared.
Good To Know: If you are feeding your cat or dog dry food such as kibble, then their lifespan is being reduced simply due to the reduction of water intake. Automatic drinking fountains can increase your pet's water intake several times over their usual consumption "thereby reducing the risk of urinary tract infection and kidney disease". It's a very small investment with huge payoffs for you and your companion animals.
A little PSA: If you are gone for more than a couple days, please ensure that you have someone come over to interact with, and checkup on your pets health and safety. No matter how unsocial your pets can be, animals don't like sudden changes and even a reclusive cat may tear up your house in protest!
Posted by Lauren in Gadgets,Household on January 22, 2014
Leave a Comment